[Post updated 15/03/20]
'Becoming Global Changemakers' is the topic of the next #MSFTEduChat. I'm excited to share that I have been invited to co-host this chat with a wonderful group of global changemakers! 🤩🎉
This is an activity I'm very passionate about and how we collaborate at Innovation Lab Schools by Take Action Global, the non-profits I volunteer for.
2020: Decade of Action!
2020 marks the beginning of a new Decade of Action. Now more than ever, we NEED to develop and mobilise as many changemakers as possible. Rather than get into the theme of global changemakers here though, I'll leave that for the chat! 😊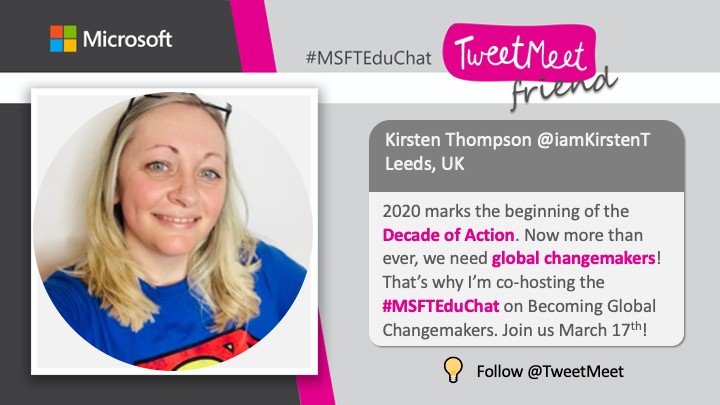 What is #MSFTEduChat?
The #MSFTEduChat is a monthly global and multilingual TweetMeet (Twitter chat) facilitated by Microsoft Education and an invited group of educators. Each month has a different theme, relevant to educators. Even if you cannot attend a live facilitated chat, you can always catch up with the conversation later and contribute, using the hashtag #MSFTEduChat.
How do I participate in a Twitter chat?
If you have never participated in a Twitter chat before (you have been missing out!), check out this blog post, Making the most of Twitter chats. If you haven't even really got into tweeting yet, read this first Twitter 101: Twitter tips for beginners (blog post).
How to join the #MSFTEduChat
If you would like to promote that you are going to join us for the #MSFTEduChat, you are welcome to download this TweetMeet Friend Cards PowerPoint template (OneDrive). Instructions on how to edit it are embedded into the PowerPoint presentation.
March's #MSFTEduChat hosts
Here's the full list of hosts – including me! 😃⬇️
You can also access TweetMeet's #MSFTEduChat 2020-03 Twitter List of hosts.
I'm really excited to connect with more passionate global changemakers through this TweetMeet, as well as collaborate further with some of my #SDGWomen – I'm looking at you Abhilasha, Bhavna, Branka and Donna! 🌍💚
Follow the TweetMeet Team too!
Here are the TweetMeet questions!
During the #MSFTEduChat, we will be asking you the following questions:
What does it mean to be a global changemaker?
Why should educators engage students into becoming global changemakers?
Which global projects inspire you and your students the most? Share stories.
What rewards and challenges come with being a global changemaker?
Which resources and tools should be in any global changemaker's toolkit?
Will you join us?
I'd love to know if you plan to join us – tweet me @iamKirstenT and add a comment, below! 😃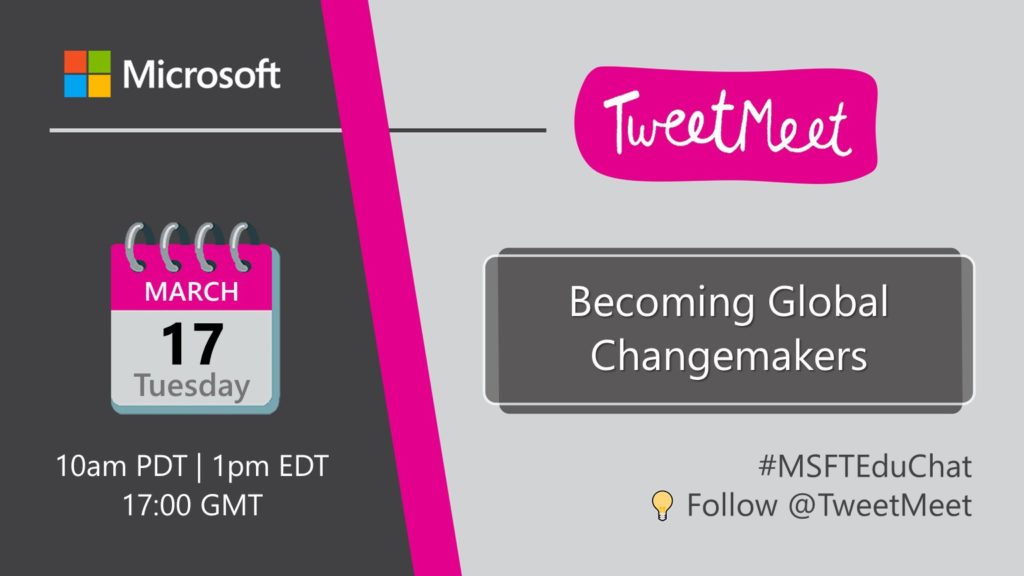 Learn more about TweetMeet (Microsoft Education blog).