#BlogAtTheBeach returns for a second year
Last month I was invited to speak at icelolly.com's Blog at the Beach event in Leeds, UK. The event is invitation only for a select group of travel and lifestyle bloggers.
This year there were around 60 bloggers in attendance and I was the first of three guest speakers on the line-up!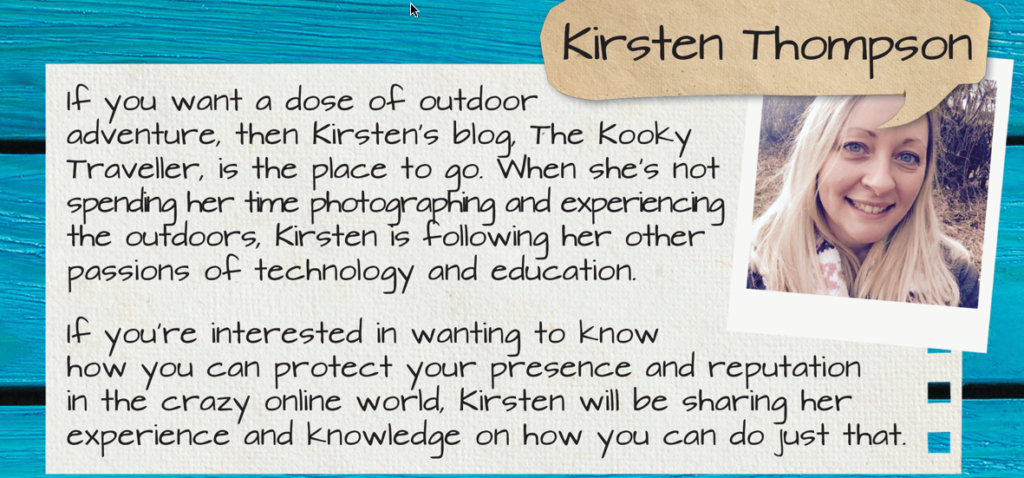 Rock Your Blog: Protect Your Brand and Reputation
I love helping people make informed decisions about managing their digital presence, so I was thrilled to be invited to come along to #BlogAtTheBeach and speak on this very topic, in the context of blogging and working with brands and PRs.
Whether you blog or not, there are still things you can learn from this talk, that you can takeaway and implement into managing your own digital life.
The summary for my talk:
We work hard to build an online presence and make successful connections with audiences, brands and PRs; your reputation can be at risk if it's not protected though, so let's explore strategies and reduce the risk.
My 30-minute talk (plus 15-minute Q+A) covered some of the following:
Your digital footprint
Even if you consider yourself a confident and experienced user of the web, it is beneficial for ALL of us to schedule regular reviews of our digital footprint. Of course this extends beyond our use of social media (I'm sure you appreciate that though).
How often do you review your digital footprint?
Security
Consider security in relation to your website/blog, your passwords across all your accounts on the web and your privacy settings. If you use self-hosted WordPress for your site, you absolutely do need to take measures to improve the security of your site, if you haven't already done so.
Sometimes we incorporate strategies we see others using on the web, because they seem like a good idea at the time. In some cases, they work well, but not necessarily for everyone e.g. at one point, a lot of Instagrammers were adding custom locations to their posts as a way of promoting an alternative channel e.g. Snapchat. Lots of people have done this without realising that custom locations still add a pin to a map; in some cases that pin has increased the visibility of Instagrammers' home addresses, the location where the photo was uploaded to Instagram.
What are you doing right now to secure your site and digital presence?
Compliance
Compliance is a huge area and we have a responsibility to understand our legal obligations and also know what can get us in trouble online e.g. in relation to online communication. We should always take care about the content we share online e.g. it is not advisable to participate in like/comment/sharing threads in groups because we should never share anything that we do not agree with. It can be easy to like or share someone else's tweet or post on social media, but if you haven't read the blog post or watched the video the post links to, how do you know, the content is aligned with your own values? What if that content breaks the law in some way? If so, you could find yourself in trouble with the law too, not just the original poster.
If you have a website you absolutely need a privacy policy, to cover yourself fully and ensure you are being completely transparent with your site visitors and customers and how and where, their data is stored as well as what it is used for.
Website terms of use also help make clear the contract between you and your site visitor.
Compliance of course can differ depending upon where your website is hosted and/or where your business is registered.
Is your website or blog compliant?
The above are just a few pointers to consider from my talk, in relation to protecting your brand and reputation online. The complete set of slides are below.
Feedback and comments on this talk can be viewed in this Storify, Rock Your Blog – Protect Your Brand and Reputation If you'd like to see some of the blogger-fun we had and a summary of the other two talks (about building a social following and getting started with vlogging), take a look at this post; A Mexican Fiesta with icelolly!
What are you doing right now, to protect your brand and reputation?
Disclaimer: I was not asked, or compensated for writing this post.