ROCK YOUR DIGITAL is;
A place to learn and develop your digital skills and strategies, to rock online. This website is the virtual HQ for ROCK YOUR DIGITAL.
A growing community of people who are passionate about helping others, by using the web to share their superpowers with the world.
ROCK YOUR DIGITAL aims to serve likeminded:
solopreneurs
creatives
bloggers
and those who aspire to rock online.
Who on earth am I?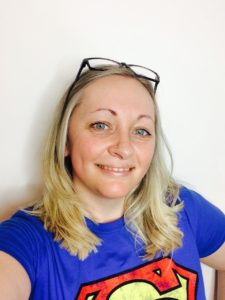 I'm Kirsten Thompson, Founder of ROCK YOUR DIGITAL. I'm a qualified (and experienced) teacher, learning technologist and digital strategist. Some might call me a little geeky; those who know me well, know I actually used to be a COMPLETE technophobe. For real. I guess that's what makes me good at teaching people about tech though. Who knew, my personal kryptonite would eventually become my superpower!
I'm passionate about helping people;
Make the most of the web to support their goals – so long as those goals are for the power of good 😉
Make informed choices about managing their digital presence and footprint
Realise their potential through training and development.
Superpowers 🚀
Teaching, coaching and developing people
Simplifying complex or technical information for a generalist audience
Helping people make informed decisions about their use of technology to support their goals, whether that's teaching, blogging, using WordPress, managing an online reputation or using social media
Networking and facilitating communities
Writing for the web and designing learning activities, courses and programmes
Public speaking
Experience
I've spent the last 14+ years teaching and training thousands of people in further and higher education (staff and students) on a range of subjects including:
media, film, communications and marketing
video and print production
designing online courses and learning and teaching online
cultivating communities
blogging and WordPress
developing strategies to build and manage an online and social media presence.
Academic credentials (if you care about that sort of thing)
BA (Hons) Politics and Media Studies
PGCE: Further Education
MSc Technology Enhanced Learning, Innovation and Change
I also LOVE to travel
Which explains why most of the photos of me on the internet are of me travelling.
Are you ready to ROCK YOUR DIGITAL?
Come join the growing community and get access to free content to help you rock online and share your superpowers with the world!🌍✌️
Sign up below ⬇️⬇️⬇️